HOME—Ideas You Can Use—Master Camper Award
Troop 97 Master Camper Award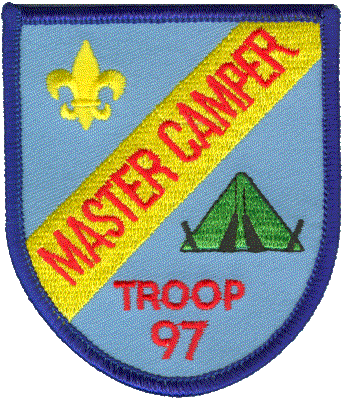 The Troop 97 Master Camper Award is designed to encourage Scouts to take advantage of the full range of Scout camping opportunities. The award's four requirements encourage frequent camping and the unique experiences that Scouts can only get on winter campouts, at summer camp, and on a High Adventure Trek.
Scouts are motivated by receiving a special patch to wear on their right shirt pocket, by getting their names printed in the newsletter, and by having their names permanently engraved on the Master Camper Award plaque at our meeting room.
It takes most Scouts about three years in the troop to earn the award:
Camp 35 nights with the troop
Attend 5 winter campouts with the troop (we somewhat arbitrarily count any campout between November and March as "winter", though this timeframe pretty accurately covers those months in our area when the most severe weather is probable)
Attend 2 summer camps with the troop
Attend 1 troop Trek (the week-long annual high adventure backpack, canoe, or bike treks the troop takes each year)
An artist within the troop designed the patch, and it is made by one of the patch companies you can find in the back of Scouting magazine. We ordered 100 patches to keep the unit cost down, and this supply will last for a number of years.
We allow Scouts or adults to earn the award, and we credit any campout with the troop, even if it occurs before becoming a Scout (such as a Webelos overnight with the troop).
Almost all our Eagles, of course, have earned the award, and about 60% of the Scouts who earn the award will also earn Eagle.
---
Last Revision to This Page: 5 September 2016
Copyright © 1998-2016 by Troop 97 BSA