HOME—Troop 97—T97 FAQ—Question #1
Troop 97 FAQ
Question #1—Just how is T97 different from the 'average' BSA troop?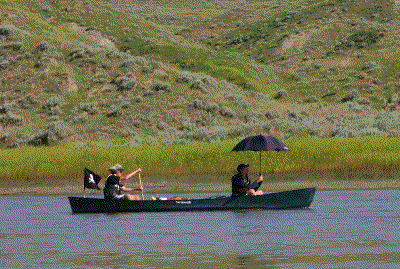 We make a concerted effort to follow all applicable BSA policies.
We use all 8 'Methods of Scouting' in our program (see below)
We insist that our uniformed adult leaders complete the training offered by the BSA.
We are 'high adventure' oriented.
Summer camp is so important that it starts our year (psychologically speaking), rather than ends it.
We take older Scouts on a one- to two-week 'high adventure' trek every year, one that goes well beyond what most adults have ever done (Backpacked at 14 500 ft? Canoed to near the Arctic Circle? Snorkeled a shipwreck? Bicycled 425 miles across several islands? Camped in a foot of new snow—in August?)
Scouts get to be real leaders—to assume responsibility for the happiness and welfare of their fellow Scouts. That's a key strength of Scouting, because it's almost impossible to get that kind of leadership experience anywhere else as a youth.
The eight methods used by all good troops make Scouting unique:
Adult Association
Advancement
Ideals (Promise, Law, Motto, Slogan)
Leadership Development
Outdoors
Patrol Method
Personal Growth
Uniform
---
Last Revision to This Page: 5 January 2016
Copyright © 2010-16 by Troop 97 BSA