HOME—BSA Handbooks & Handbook Covers—Patrol Leader Handbook
A Brief Background of the Patrol Leader Handbook (BSA)
(and other BSA Junior Leader Handbooks)
2002/2017/2019 Editions—The Patrol Leader Handbook (2002-present)
The BSA has a patrol-leader-specific handbook, and now a second leader-position handbook for the SPL. Both handbooks are filled with full-color photos and artwork, and are coil-bound to lie flat.
BSA ceased labeling Patrol Leader Handbook editions after 1990. This would be the equivalent of a 4th Edition. The 2017 edition was a very mild update, with slightly updated text but almost all new photos. For the 2019 editions, BSA made very minor updates/corrections to text, and substituted photos of girls for many of the book's photos, so that the books now show both male and female Scouts.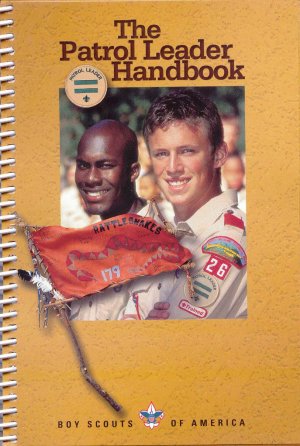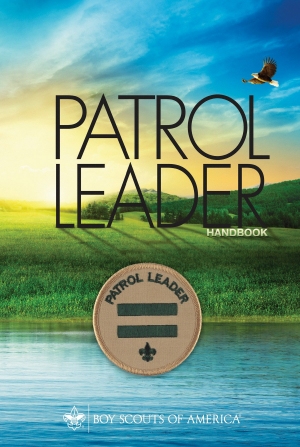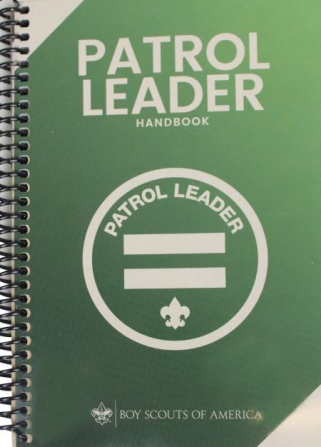 Patrol Leader Handbook Summary and Printing History
title from title page—The Patrol Leader Handbook; changed to Patrol Leader Handbook for 2017 Edition
author is Robert Birkby, who also wrote the 10th through 12th Editions of the Boy Scout Handbook
cover art as above
2002-present (?? years)
size 133x203x8 mm (5-1/4x8")
128 numbered pages (2002); 152 numbered pages (2017) [although the font size is smaller, the 2017 book is more spread out]
Actual Patrol Leader Handbook Table of Contents
Opportunity and Challenge—Welcome to the Position of Patrol Leader
Building Patrol Spirit
Your Patrol and Your Troop
Leading Patrol Meetings
Leading Patrol Activities
Being a Good Leader
Other Patrol Leadership Positions
---
2002/2017/2019 Editions—The Senior Patrol Leader Handbook (2002-present)
BSA no longer labels different editions. This would be the first edition of the SPL Handbook. The 2017 edition was a very mild update, with slightly updated text but mostly new photos. For 2019, as with the Patrol Leader Handbook, the SPL Handbook now has a mix of photos of male and female Scouts. BSA seems to think it's cute to put the first word in the title in much smaller size than the rest of the title, but this makes this book look like a Patrol Leader Handbook since the word 'Senior' is so small.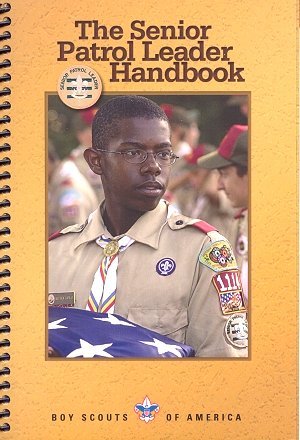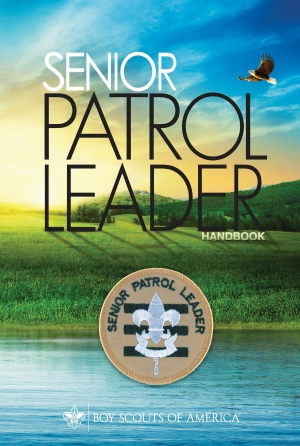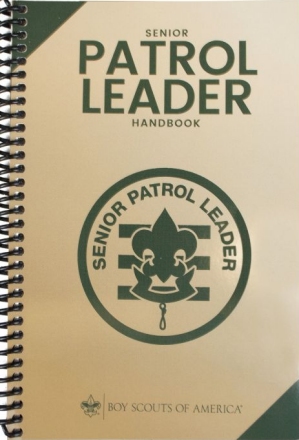 SPL Handbook Summary and Printing History
title from title page—The Senior Patrol Leader Handbook; changed to Senior Patrol Leader Handbook for 2017 Edition
author is Robert Birkby, who also wrote the 10th through 12th Editions of the Boy Scout Handbook
cover art as above
2002-present (?? years)
size 133x203x8 mm (5-1/4x8")
128 numbered pages (2002); 144 numbered pages (2017) [although the font size is smaller, the 2017 book is more spread out]
Actual Senior Patrol Leader Handbook Table of Contents
Welcome!
Senior Patrol Leader Qualifications
Building Troop Spirit
The Troop Program
Running a Good Troop Meeting
Leading the Troop Beyond the Meeting Room
How to Be a Good Senior Patrol Leader
The Troop Leadership Team

---
Last Revision to This Page: 7 January 2020
Text copyright © 2006 by Jeff Snowden
Web format © 2006-20 by Troop 97 BSA
Handbook pictures copyright © by Boy Scouts of America