HOME—BSA Handbooks & Handbook Covers—Patrol Leader Handbook
A Brief Background of the Patrol Leader Handbook (BSA)
(and other BSA Junior Leader Handbooks)
This is a brief summary and comparison of each edition of the Patrol Leader Handbook, also including the two more general troop leadership books that were offered in place of a Patrol Leader Handbook for 20 years, and including the recent Senior Patrol Leader Handbook. It took the BSA almost 20 years from their founding even to put out a Patrol Leader Handbook. This happened only after William "Green Bar Bill" Hillcourt convinced Chief Scout Executive James West to allow him to write one, which was published in 1929. The BSA has been consistently sloppy about identifying editions and printings. The only edition officially identified was the 3rd in 1980. It appears that the BSA does not consider their Patrol and Troop Leadership and Junior Leader Handbook publications as patrol leader handbooks. Even the new 2002 Edition of the Patrol Leader Handbook is not identified in any way.
1st Edition—Handbook for Patrol Leaders (1929-1967)
Cover for the first 18 printings showed a patrol leader sitting by a campfire in front of his tent dreaming of driving a covered wagon, going on an African safari, or driving a dogsled in the Arctic. The revised 1950 printing changed to a color drawing of a patrol leader carrying his patrol flag and beckoning to his patrol. Written by William Hillcourt, and filled with black-and-white line drawings, this book was received with great enthusiasm. It was somewhat revised in 1950, but BSA did not label this a new edition.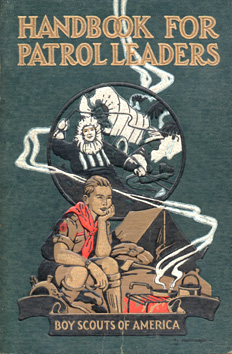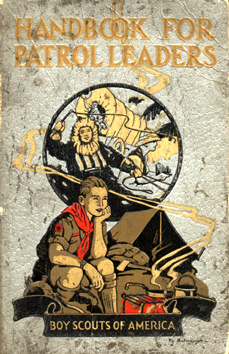 1st Edition Summary and Printing History
title from title page—Handbook for Patrol Leaders
author is William Hillcourt
cover art is drawing of patrol leader dreaming of adventure (by Hy Hintermeister; printings 1-18), drawing of patrol leader with patrol flag (printings 19-34)
1929-1967 (38 years)
1 522 000 copies printed (542 000 first cover, 980 000 revised edition)
size 114x178x19 mm (4-1/2x7")
34 printings:

First Cover—
—1st printing (Jul 1929, 27 000 copies)—399 numbered pages
—2nd printing (Sep 1929, 50 000 copies)—408 numbered pages
—3rd printing (Jan 1931, 25 000 copies)—408 numbered pages
—4th printing (Apr 1933, 22 000 copies)—408 numbered pages
—5th printing (Feb 1935, 15 000 copies)—562 numbered pages
—6th printing (Jan 1936, 20 000 copies)—568 numbered pages
—7th printing (Jun 1937, 25 000 copies)—590 numbered pages
—8th printing (May 1938, 25 000 copies)—598 numbered pages
—9th printing (Jun 1939, 25 000 copies)—598 numbered pages
—10th printing (Feb 1941, 25 000 copies)—598 numbered pages
—11th printing (Mar 1942, 25 000 copies)—598 numbered pages
—12th printing (Mar 1943, 30 000 copies)—584 numbered pages
—13th printing (Mar 1944, 46 000 copies)—444 numbered pages
—14th printing (Mar 1945, 40 000 copies)—444 numbered pages
—15th printing (Nov 1945, 32 000 copies)—444 numbered pages
—16th printing (Mar 1946, 50 000 copies)—444 numbered pages
—17th printing (Dec 1948, 30 000 copies)—444 numbered pages
—18th printing (Dec 1949, 30 000 copies)—444 numbered pages

Revised Edition (new cover)—
—19th printing (Dec 1950, 60 000 copies)—376 numbered pages
—20th printing (Jan 1952, 40 000 copies)—392 numbered pages
—21th printing (Nov 1952, 50 000 copies)—392 numbered pages
—22th printing (Dec 1953, 50 000 copies)—392 numbered pages
—23th printing (Sep 1954, 50 000 copies)—392 numbered pages
—24th printing (Sep 1955, 60 000 copies)—392 numbered pages
—25th printing (Dec 1956, 60 000 copies)—392 numbered pages
—26th printing (Dec 1957, 60 000 copies)—392 numbered pages
—27th printing (Jan 1959, 60 000 copies)—392 numbered pages
—28th printing (Dec 1959, 65 000 copies)—392 numbered pages
—29th printing (Feb 1961, 60 000 copies)—392 numbered pages
—30th printing (Feb 1962, 60 000 copies)—392 numbered pages
—31th printing (Feb 1963, 60 000 copies)—392 numbered pages
—32th printing (Dec 1963, 50 000 copies)—392 numbered pages
—33th printing (Dec 1964, 75 000 copies)—380 numbered pages
—34th printing (Aug 1965, 75 000 copies)—380 numbered pages
Actual 1st Edition Table of Contents
Contents of First 18 printings:
Chapter I. THE PATROL LEADER AND HIS JOB
Chapter II. PATROL SPIRIT
Chapter III. THE PATROL AND THE TROOP
Chapter IV. PATROL ORGANIZATION
Chapter V. PATROL MEETINGS
Chapter VI. PATROL INSTRUCTION
Chapter VII. PATROL HIKES
Chapter VIII. PATROL CAMPING
Chapter IX. PATROL HANDICRAFT
Chapter X. PATROL STUNTS
Chapter XI. PATROL RELATIONSHIPS
Chapter XII. THE PATROL LIVES ON
Contents of Revised Edition:
Chapter 1 The Patrol Leader and His Job
Chapter 2 Patrol Spirit
Chapter 3 The Patrol and the Troop
Chapter 4 Patrol Organization
Chapter 5 Patrol Meetings
Chapter 6 Patrol Hikes
Chapter 7 Patrol Camping
Chapter 8 Patrol Instruction
Chapter 9 Patrol Handicrafts
Chapter 10 Patrol Stunts
Chapter 11 Patrol Relationships
Chapter 12 The Patrol Lives On

---
Last Revision to This Page: 9 January 2021
Text copyright © 2006 by Jeff Snowden
Web format © 2006-21 by Troop 97 BSA
Handbook pictures copyright © by Boy Scouts of America