HOME—BSA Handbooks & Handbook Covers—Scout Handbook—9th Edition
The Scout Handbook, 1910-Today (continued)
9th Edition—Official Boy Scout Handbook (1979-1990)
Cover artwork by Norman Rockwell, 1970 Brown & Bigelow Scout calendar painting "Come and Get It," featuring a scene at Schiff Scout Reservation (former BSA National Training Center in New Jersey) of Scouts (in yellow neckerchiefs) cooking and canoeing. The 9th Edition will probably be the last Handbook to have a Norman Rockwell cover. Because Rockwell painted his last Scout picture before the BSA redesigned the Scout uniform in 1981, modern Scouts will tend to think of the Scouts in Rockwell's paintings as old-fashioned, much the way most of us probably think when we see earlier Rockwell paintings showing Scouts in knickers and campaign hats. The back cover has a quick reference tab and a table of contents.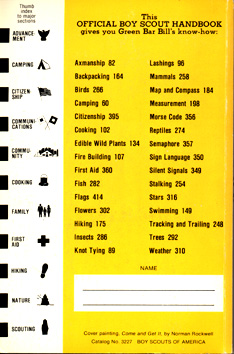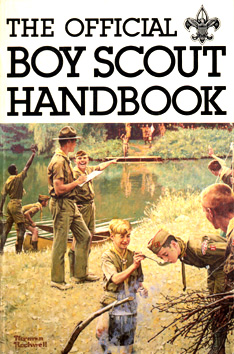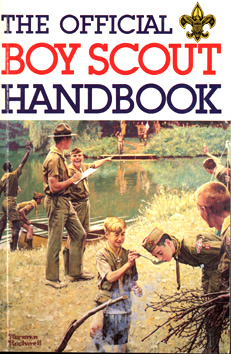 William Hillcourt came out of retirement and donated a year of his life to write the 9th Edition, which represented a return to the traditional Scouting program after the disastrous membership losses suffered by the 1970s program. The 9th Edition has a great deal in common with Hillcourt's earlier Handbooks (6th & 7th Editions); entire paragraphs and pictures are reprinted from the earlier editions.
While preserving many of the 8th Edition's topics (such as family and community living, general communication, information on ethnic groups, the extensive information about abusable drugs), the 9th Edition restores many traditional subjects missing for several editions: how to wear the neckerchief, when to wear the uniform, lashings, rowing and canoeing, stars, fire without matches, measuring heights and distances, Scout games, tracking/trailing, suggested books to read, weather, silent signals, semaphore, Morse code, Indian signs, manual alphabet for the deaf, sign language for the deaf, edible wild plants, the extensive information about wildlife. It also adds new subjects never before covered: hypothermia/exposure (barely mentioned previously), splicing, and backpacking. Indeed, it contains extra information on many subjects that is not required for advancement but is there for a Scout's use as needed, making this as much a Fieldbook as an advancement manual.
The puberty discussion is less complete than has been the case for several editions. There is no mention of masturbation or wet dreams. However, there is good guidance on sex, the first Handbook recognition since the 4th Edition of adolescent problems with sex. This is the first Handbook edition to state than a small spade is a useful and important camp tool. But it also harks back to the days of heavy-handed pioneering by showing how to cut a tent peg with an axe (destructive and unnecessary once lightweight aluminum and plastic pegs became widely available).
The book uses the cheap "perfect" binding. This edition drops the merit badge requirements; it includes only the requirements for the 14 badges required for Eagle Scout (it has color drawings of the other merit badges). The book's artwork is excellent. In addition, the BSA redrew the artwork on 75 pages for the 4th printing (1981) to show its newly redesigned uniform (the first redesign since 1922).
9th Edition Summary and Printing History
title from title page—Official Boy Scout Handbook
by William Hillcourt
cover art by Norman Rockwell
1979-1990 (11 years)
4,400,000 copies printed (average 400,000 copies printed per year)
size 133x203x19 mm (5-1/4x8-3/4")
12 printings (earlier covers had title & BSA insignia in black ink, while later covers had with blue & red lettering with a gold/black BSA insignia):
—1st printing (Feb 1979, 600 000 copies)—576 numbered pages
—2nd printing (Jun 1979, 400 000 copies)—576 numbered pages
—3rd printing (Mar 1980, 350 000 copies)—576 numbered pages
—4th printing (Feb 1981, 350 000 copies)—576 numbered pages
—5th printing (Dec 1981, 350 000 copies)—576 numbered pages
—6th printing (Oct 1982, 350 000 copies)—576 numbered pages
—7th printing (Oct 1983, 350 000 copies)—575 numbered pages
—8th printing (Sep 1984, 350 000 copies)—576 numbered pages
—9th printing (Oct 1985, 350 000 copies)—576 numbered pages
—10th printing (Nov 1986, 350 000 copies)—576 numbered pages
—11th printing (Feb 1988, 300 000 copies)—576 numbered pages
—12th printing (Nov 1988, 300 000 copies)—576 numbered pages
Actual 9th Edition Table of Contents
What Scouting Is
Your Life as a Scout
The Spirit of Scouting
What Scouts Do
To Camp! To Camp!
Let's Go Hiking
Where Scouts Roam
Nature Around You
Protect Your World
You and Other People
Communication
Be Prepared for Accidents
You — American Citizen
Be a Knowing American
Strive for a Happy Family
Know Your Community
Upward to Eagle
Your Scout Advancement [later called Scout Advancement]
Scouting Opportunities
From Boy to Man [later called You—From Boy to Man]
Living the Scout Oath
My Trail to Eagle
Progress Awards [later called Rank Requirements]
Skill Award Requirements
Merit Badge Requirements [Eagle badges only]
Books You'll Enjoy Reading
Index
---
Last Revision to This Page: 27 March 2011
Text copyright © 1980, 1990, 1999 by Jeff Snowden
Web format © 1996-2011 by Troop 97 BSA
Handbook pictures copyright © by Boy Scouts of America