HOME—BSA Handbooks & Handbook Covers—Scoutmaster Handbook
A Brief Background of the Scoutmaster Handbook (BSA)
5th Edition—Scoutmaster's Handbook (1959-1972)
All covers were dark blue with the beloved Norman Rockwell painting "The Scoutmaster" (unusual in that he is wearing a yellow neckerchief instead of red). Author again was William Hillcourt, and this was a mild update of the 4th Edition, as can be seen from the table of contents. One new tool is added on how to take over an old troop.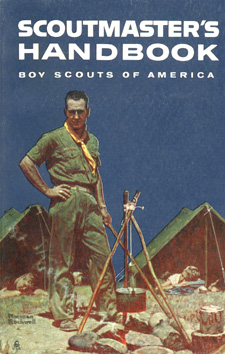 5th Edition Summary and Printing History
title from title page—Scoutmaster's Handbook
by William Hillcourt
cover art is the 1956 Norman Rockwell painting "The Scoutmaster"
1959-1972 (13 years)
510 000 copies printed
size 114x178x19 mm (4-1/2x7")
11 printings:
—1st printing (Jul 1959, 50 000 copies)—509 numbered pages
—2nd printing (Jul 1960, 40 000 copies)—510 numbered pages
—3rd printing (Jun 1961, 40 000 copies)—510 numbered pages
—4th printing (Jun 1962, 40 000 copies)—510 numbered pages
—5th printing (Jun 1963, 40 000 copies)—510 numbered pages
—6th printing (Oct 1964, 40 000 copies)—510 numbered pages
—7th printing (Nov 1965, 40 000 copies)—542 numbered pages
—8th printing (Nov 1966, 45 000 copies)—542 numbered pages
—9th printing (Oct 1967, 50 000 copies)—542 numbered pages
—10th printing (Nov 1968, 75 000 copies)—542 numbered pages
—11th printing (Aug 1970, 50 000 copies)—542 numbered pages
Actual 5th Edition Table of Contents
INTRODUCTION
What Scouting Is
The Boy, the Man, and the Job
PART ONE—The Scoutmaster's FIRST Job: Helping boy leaders make the PATROL METHOD work and to work with and through responsible adults to give Scouting to boys
I—How the Patrol Method Works
Chapter 1—Why the Patrol Method?
Chapter 2—Setting Up the Patrol Method
II—Leadership
Chapter 3—The Patrol Leaders' Council
Chapter 4—Adult Assistance
III—Planning the Work
Chapter 5—Planning for the Year
Chapter 6—Planning for the Month
IV—The Life of the Patrol
Chapter 7—The Patrol Carries On
V—The Life of the Troop
Chapter 8—Troop Meeting Tonight
Chapter 9—The Troop Goes Hiking
Chapter 10—Camping Overnight
Chapter 11—The Summer Camp Adventure
Chapter 12—Other Things to Do
PART TWO—The Scoutmaster's SECOND Job: Helping each individual BOY grow
I—The Boy Becomes a Scout
Chapter 13—The Boy Joins
II—The Boy in Scouting
Chapter 14—The Boy Stays
Chapter 15—The Boy Grows
The Scoutmaster's TOOL CHEST
Tool 1—Program Tools
Tool 2—Chartering and Registration
Tool 3—Patrol Leaders' Training
Tool 4—Patrol Recognition
Tool 5—Financing the Troop
Tool 6—Troop Equipment
Tool 7—Taking Over an Old Troop
Tool 8—Troop Meeting Room
Tool 9—Troop Records
Tool 10—Uniforming the Troop
Tool 11—Program Themes
Tool 12—Games and Contests
Tool 13—Troop Hike Ideas
Tool 14—Wide Games
Tool 15—Ceremonies
Tool 16—Scout Drill
Tool 17—Singing
Tool 18—Storytelling
Tool 19—Troop Mobilization
Tool 20—Scoutmaster Growth
Tool 21—Scout Requirements
---
6th Edition—Scoutmaster's Handbook (1972-1981)
All covers were a two-tone light green/dark green, with only the title and a small cartoon of a Scoutmaster talking with a Scout in the corner. All handbooks of this era had the same two-tone color scheme. This monotonous and dull look was further emphasized by the dull look of the recycled paper inside. This book contained no photos, replacing them with a lot of cartoon-like drawings, all of them black-and-white-and-dull-green. Most of the content is useful material for the Scoutmaster, but the book is filled with the new and awkward "politically correct" terminology that reflected the disastrous Scouting program of the 1970s (ranks became "progress awards", Scoutmaster conference became "personal growth agreement conference", etc; and BSA lost 1/3 of its membership between 1972 and 1978). I'm not sure who the author was, but it wasn't William Hillcourt, who strongly opposed the "Improved Scouting Program".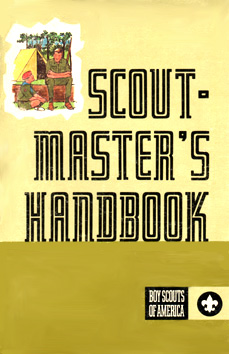 6th Edition Summary and Printing History
title from title page—Scoutmaster's Handbook
author uncertain
cover is two-tone green with small cartoon of Scoutmaster & Scout in upper corner
1972-1981 (9 years)
~410 000 copies printed
size 133x203x19 mm (5-1/4x8")
9 printings:
—1st printing (Jun 1972, 150 000 copies)—382 numbered pages
—2nd printing (Sep 1972, 50 000 copies)—382 numbered pages
—3rd printing (Feb 1973, 75 000 copies)—382 numbered pages
—4th printing (Aug 1975, 24 000 copies)—382 numbered pages
—5th printing (Jul 1976, 20 000 copies)—382 numbered pages
—6th printing (Jun 1977, 22 000 copies)—382 numbered pages
—7th printing (Jun 1978, 22 000 copies)—382 numbered pages
—8th printing (Feb 1979, ~22 000? copies [uncertain])—382 numbered pages
—9th printing (Mar 1980, 25 000 copies)—382 numbered pages
Actual 6th Edition Table of Contents
PART ONE
Chapter One, THE SCOUTMASTER'S ROLE
Chapter Two, WHAT IS SCOUTING?
Chapter Three, LEADERSHIP
Chapter Four, UNDERSTANDING THE BOY
Chapter Five, COUNSELING
Chapter Six, STARTING OUT AS A SCOUTMASTER
PART TWO
Chapter Seven, PROGRAM PLANNING
Chapter Eight, TROOP MEETINGS
Chapter Nine, RESOURCES
Chapter Ten, THE PATROL METHOD
Chapter Eleven, TROOP ORGANIZATION
Chapter Twelve, ADVANCEMENT
Chapter Thirteen, THE OUTDOOR PROGRAM
Chapter Fourteen, TROOP ADMINISTRATION
Chapter Fifteen, CEREMONIES
Chapter Sixteen, GAMES AND ACTIVITIES
Chapter Seventeen, UNIFORMS AND INSIGNIA
Chapter Eighteen, TECHNIQUES OF INSTRUCTION
Chapter Nineteen, A SHORT HISTORY OF SCOUTING

---
Last Revision to This Page: 20 July 2016
Text copyright © 2006 by Jeff Snowden
Web format © 2006-16 by Troop 97 BSA
Handbook pictures copyright © by Boy Scouts of America