HOME—International Scouting—Scouting Organizations—OWS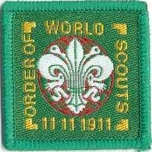 Order of World Scouts (OWS)
(21 member associations in 15 countries, perhaps around 4000 members, founded 1911 & re-started in 1991)
In 1909, a group of troops withdrew from Baden-Powell's Boy Scouts Association and formed the British Boy Scouts (BBS) (apparently out of concern that B-Ps association was too "official" and militaristic). While some early troops were coed, a public outcry caused them quickly to split into semi-separate BBS and BGS (British Girl Scouts) associations. The BBS/BGS program soon spread to several other British Commonwealth countries. As a result, in 1911, members of the BBS led by Sir Francis Vane (a former official of B-P's Boy Scouts Association) organized the Order of World Scouts. The Order had some early success, then largely collapsed after its founder and primary financial benefactor declared bankruptcy in 1912. Largely disappearing for nearly 80 years, the Order was revived in 1991.
The OWS constitution requires that all members "demonstrate by teaching and example of life the Christian Faith". Headquartered in England, the Order of World Scouts includes 21 associations in 15 countries, including several branches of the USTA (Unión de Scouts Tradicionales de America / Union of Traditional Scouts of America; USTA follows not only Baden-Powell's original practices, but also the Woodcrafter practices started by Ernest Thompson-Seton after he left the BSA).
An interesting American connection was "The American Boy Scouts" (ABS), an association started by newspaper publisher William Randolph Hearst in June, 1910 (only four months after publisher William Boyce founded the Boy Scouts of America) (Hearst resigned from the ABS in December, 1910). The American Boy Scouts affiliated with the Order of World Scouts in 1911, and renamed themselves "The US Boy Scout" in 1913. This association was the target of a lengthy lawsuit by the Boy Scouts of America, which ended successfully for the BSA in 1919, after testimony from Baden-Powell on behalf of the BSA. The US Boy Scout then reorganized as the "American Cadets" and "US Junior Military Forces Inc.", and soon disappeared.
Member Associations listed alphbetically by country:
---
Argentina—USTA Argentina, 2008
Australia—The Scouts of Australia, 1986
Bolivia—USTA Bolivia, 2008
Brazil—USTA Brasil, 2008
Chile—Boy Scouts Woodcraft de Chile, 2008
Chile—FIDES Chile (Federación de Escultismo Chilena), 2008
Chile—Unión de Scouts de Chile, 2008
Dominican Republic—USTA República Dominicana, 2008
Ecuador—Confraternidad Scouts del Guayas, 2010
Italy—Scuola Nazionale Formazione Scout (National Scout Training School), 1994 (provides Scout leader training courses to any interested Scout association, including WOSM & WAGGGS associations)
Jamaica—Girl Scouts of Jamaica, 2008
Mexico—Scouts Mexicanos AC, 1975
Peru—Asociación Peruana de Scouts sin Fronteras (Scouts without Borders; also known as Asociación Peruana de los Scouts Del Mundo [Scouts of the World], 2007
Peru—USTA Perú, 2008
Poland—Ls-Drzewo Pokoju, 2002
Ukraine—Organization of Ukrainian Scouts, 2000
UK—British Boy Scouts/BBS, 1909
UK—British Girl Scouts/BGS, 1909/11 (affiliated with BBS—in coed troops, boys belong to BBS and girls belong to BGS)
UK—The Order of the Redeemer (a fraternal order open to all "serving and retired Scout Leaders"), 1914
UK—The Scout History Association, 1997 (for those interested in the historical aspects of Scouting)
Uruguay—USTA Uruguay, 2008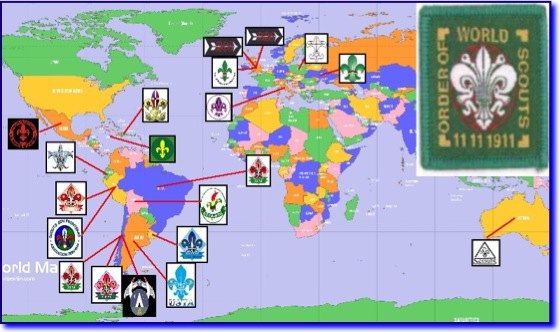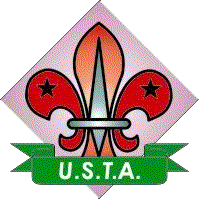 ---
Last Revision to This Page: 21 December 2020
Text copyright © 2001-20 by Troop 97 BSA
Images are either non-copyright or are copyright © their respective organizations