HOME—International Scouting—Scouting Organizations—FSE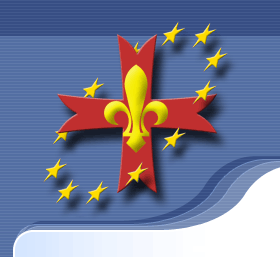 Fédération du Scoutisme Européen (FSE)
(Federation of European Scouting)
full, official name is:
l'Union internationale des Guides et Scouts d'Europe - Fédération du Scoutisme Européen (UIGSE-FSE)
(International Union of Guides and Scouts of Europe - Federation of European Scouting)
(23 member associations in 21 countries, about 67 000 members, founded 1956)
Headquartered in France, UIGSE-FSE was founded in 1956 by a group of German and French Catholic youth leaders. Although open to Christians in general, the organization is strongly Roman Catholic in philosophy and policy (the UIGSE-FSE Promise requires Scouts to pledge to serve both God and the Church). Catholics and protestants are not allowed to be members of the same unit. Male and female youth must be in separate units.
Member Associations listed alphbetically by country:
---
Austria—Katholische Pfadfinderschaft Europas - Österreich, 1989
Belarus—Katalickija Skautki i Skauty FSE - Belarus (FSE 'candidate' association)
Belgium—Guides et Scouts d'Europe - Belgique, 1963
Canada (Québec)—Association Evangélique du Scoutisme au Québec (FSE 'associated' member)
Canada (Ontario)—Federation of North American Explorers (FSE 'candidate' association)
Czechia—Asociace Skautek a Skautů Evropy (FSE 'candidate' association)
France—Association des Guides et Scouts d'Europe/AGSE, 1958
Germany—Evangelische Pfadfinderschaft Europas/EPE, 1977 (FSE 'associated' member)
Germany—Katholische Pfadfinderschaft Europas/KPE, 1980
Italy—Associazione Italiana Guide e Scouts d'Europa Cattolici (AIGSEC), 1976
Lithuania—Lietuvos Nacionaline Europos Skautu Asociacija, 1990 (FSE 'candidate' association)
Luxembourg—Europa Scouten vu Lëtzebuerg (FSE 'candidate' association)
Mexico—Movimiento Scout Católico Mexicano (FSE 'observer' association)
Netherlands—Europascouts en Gidsen Nederland (FSE 'candidate' association)
Poland—Stowarzyszenie Harcerstwa Katolickiego "Zawisza"/SHK, 1995
Portugal—Associação das Guias e Escuteiros da Europa/AGEE, 1979
Romania—Cercetasii Crestini Români, 1991
Russia—Interregion Association of Russian Orthodox Scouts/ORUR (FSE 'associated' member)
Slovakia—Združenie Katolíckych Vodkýn a Skautov Európy na Slovensku (ZKVSES), 2004 (FSE 'candidate' association)
Spain—Guias y Scouts de Europa, 1977
Switzerland—Schweizerische Pfadfinderschaft Europas [German]/Scoutisme Européen Suisse/SES [French]/Scautismo Europeo Svizzero [Italian]
Ukraine—Katolickije Skautsvo Evropi (FSE 'candidate' association)
United Kingdom—Guides and Scouts of Europe (FSE 'observer' association)

---
Last Revision to This Page: 30 November 2021
Text copyright © 2001-21 by Troop 97 BSA
Images are either non-copyright or are copyright © their respective organizations